Vacation Package Rhine River Cruise Lines in Germany German River Line Cruises, Planning a Rhine river day cruise and want to see the most castles along the Rhine in one or two days?
Boat day cruise start in Boppard on the Rhine river
If you are coming from the northwest – Cologne airport, Dusseldorf airport, Amsterdam airport, Luxembourg airport, Paris airport:
start your Rhine cruise in Boppard on the Rhine River ...
Boat day cruise start in Rudesheim on the Rhine river
If you are coming from the southeast – Frankfurt airport, Stuttgart airport, Munich airport:
start your Rhine Cruise in Rudesheim on the Rhine River ...
---
| | |
| --- | --- |
| Rhine River cruises to visit German wine festivals in 2024 and 2025 Rhine River Lights firework displays with half day round boat cruises A spectacular firework display during a boat trip in the Middle Rhine River Valley between Koblenz / Coblence, Lahnstein, Boppard, St. Goar, Loreley Rock, Oberwesel, Bacharach, Assmannshausen, Bingen and Rudesheim. The boat cruise with DJ music and dance on board is starting from different wine towns with wine hikings and wine festivals. | |
| | |
| --- | --- |
| Germany, Rhine River Valley, Mainz, Rudesheim, Bacharach, Lorelei Rock, Koblenz Nonsmoking Canopy bed holiday apartment Hermann, ask for Last Minute Offers Central quiet location in Oberwesel on the Rhine river. Renovated in 2015, 55 sqm. Bedroom with historic four-poster bed and satellite TV, living room with sofa bed and satellite TV, kitchen, free Wi-Fi, balcony, terrace. Car parking. 4 boat landing stages. 630 meters from castle Schonburg. Favorable permanent rental price from Nov. to March. | |
+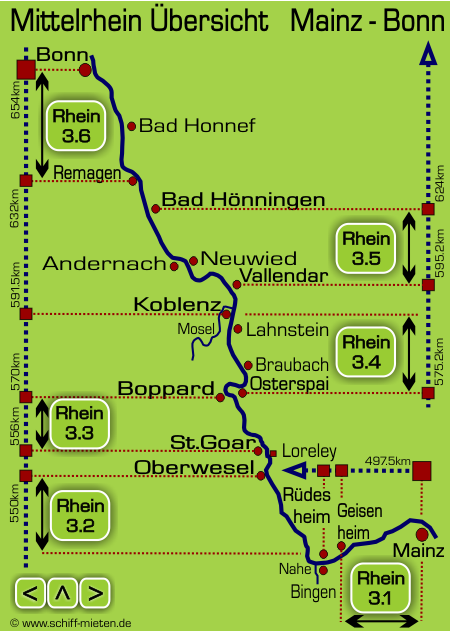 Medieval pictures of European castle

Mosel Moselle Main Donau Danube major rivers

Airport map Germanyday Europe ferrys flows hotels interest Luxemburg Munich names Paris picture points Reise rental sea ship ships sites planning vacation northwest Luxembourg southeast stuttgart long route Winningen Koblenz Coblence Mannheim Rotterdam Speyer Dόsseldorf Bonn Braubach Hesse Saxony south airline reservation hotel Berlin road Neuschwanstein romantic apartment listings

Where I can find a travel map from Germany Germany castles castle hotels Bavaria Hesse Saxony Heidelberg

map of Germany medieval Rhine River Wurzburg Munich Heidelberg Bayern Danube Neckar Rivers Black Forest Coburg Nuremburg Palace Stuttgart Bonn Saxony Firework Rothenburg Frankfurt airport landscape Hesse romantic Nuremberg European Dresden lake Koln Berlin Rudesheim families Baden Wurttemberg Constance Hanover sightseeing Regensburg

Frankfurt airport holiday packages, cruises boat map, vacations castle tours guide rental family travel train trips pictures european trip rental town tour Dusseldorf Rudesheim Europe Amsterdam Luxembourg Basel Basle Cologne Bonn Koblenz Lorelei rock valley adventure Bonn Boppard Dusseldorf France ferries St. Goar Koln Mainz maps markets Mosel Netherlands Rhineland Speyer Strasbourg tickets Wiesbaden castles

Individual round castle tour through south Germany romantic road map tour Bavaria Fussen Neuschwanstein Nuremberg famous hotel German palace Schloss Hohenschwangau bed and breakfast hotels Freiburg king Ludwig Dinkelsbuhl drive pension Schwansee Nurnberg castles rooms freeway Linderhof

Airline reservation airport map with many castle hotels in Germany online ticket reservations air travel schedule cheap discount ticket price rate Europe vacation trans world airline flight company Frankfurt Cologne Munich Berlin Hamburg Hanover Nuremberg Hahn airports

Castles in Germany near Heidelberg and Rhine River Germany European German medieval castles

Castle pictures near Heidelberg and Rhine River, Germany, European German Medieval Castles

Medieval Castles, European German Castle Pictures near Heidelberg and Rhine, Germany

Germany Tourism travel pictures hotel picture Munich Frankfurt Berlin Heidelberg Rhine river cruises German medieval castles castle road hotels Cologne photograph Neuschwanstein photo

Map of Germany maps world Europe country city road street view direction driving travel Frankfurt Rhine River west Bavaria German Nurnberg Nuremberg Mainz Black Forest Cologne Dusseldorf directions rivers east romantic Austria airport Lake Constance Hessen bed and breakfast Switzerland Wiesbaden travel hotel vacation

Travel Pictures Germany Frankfurt Main Wiesbaden Offenbach Airport Agency Rhine River Dusseldorf German Castles Road Maps Heidelberg Kassel Stuttgart Munich Vacation tour Black Forest Stuttgart Lake Constance Berlin Mannheim History Hamburg Rothenburg Train Railroad Schedule Neuschwanstein castle Fussen Bavarian Alps Nuremberg Hannover Bavaria Mainz Holiday Coblence Rhine and Mosel Rivers Valley Souvenirs Information Dresden Bed and Breakfast Romantic Highway Koln Cologne Bonn airport

Rhine Hotel Hotels Bed & Breakfast Inns Pension Apartment Vacation rentals Accommodation restaurants tour guide history trips Mainz Wiesbaden Boppard Rudesheim Koblenz Coblence Bacharach Lorelei Rock Rhine river day cruises

German castles Germany medieval castle hotels Neuschwanstein Fairy tale road villages romantic Rhein gothic old Rittermahl Germancastles Wurttemberg sightseeing Baden vacation packages Bamberg Church Marksburg Rudesheim Visiting Famous Fortress Reservations Ruins Freiburg inns Nurnberg Trier District Bavaria Southwest Black Forest Linderhof Rheinland-Pfalz Lake Constance Wurzburg Bavarian Aachen Rheingau Eifel Westphalia Knight Houses Dresden Nuremberg

Rhine castles Rhine Castles Germany medieval hotels valley cruise cruises castle middle ages Romantic old Rhein River knight's meal boat tour road age towns Rhineland Bacharach Lorelei rock Wiesbaden Mannheim Rudesheim Koblenz Coblence Moselle Marksburg round Mainz south west Baden-Wurttemberg tower fireworks ruins firework historic palace

German Castles Road Pictures Castle Hotels Southern Germany Heidelberg Hotel old Rittermahl Gotzenburg Bavaria medieval romantic Rothenburg Wurzburg Neckar River Schweinfurt Mosbach Mannheim Tauber valley Bayern ruins Bayreuth Kloster Burgenstrasse Spessart Baden Wurttemberg Nuremberg Holiday Aschaffenburg schwabisch Ansbach Odenwald meals breakfast beer

Wesercastles central northeast Germany Castle of Weser River Werra Kassel Famous Fairy tale road Cologne Tourism Fritzlar Legend Lake Edersee Weserbergland Hameln Gottingen Holzminden Palaces Dusseldorf Nordrhein Westfalen North-West Hesse Mountains Melsungen Niedersachsen Hanover Fulda Rinteln Paderborn Detmold Harz Thuringen Thuringia Saxonia Leine Northrhine Westphalia Weserrenaissence Style

Neuschwanstein Castles Germany Castle Pictures road map of Germany Picture Fussen Bavaria Munich Hotels Romantic History Schloss Garmisch king Ludwig Oberammergau South Breakfast Wellness Linderhof Vacation Bodensee Bedrooms Schwangau Bayern Schwanstein Hohenschwangau Munchen

German Romantic Hotels Germany Rhine river Wurzburg Mosel Moselle river Pfalz Neuschwanstein castle road Bodensee Charming Bed and breakfast Inns historical Rudesheim Nuremberg Rhine river valley day cruise cruises Hessen Lake Constance Uberlingen Konstanz Friedrichshafen Nordlingen Bavaria Berlin Schwangau Pension Heidelberg Black forest Rothenburg guesthouses apartment Bamberg Rhineland Danube train station Mainz Lorelei Rock Northrhine Westphalia Germania apartments vineyards

Apartment listings Germany Apartments for rent vacation rentals rental house Frankfurt flats houses furnished flat Holiday Heidelberg Cologne sale German pictures Fussen Bavaria bed breakfast Lake Constance Bodensee bedroom Boppard pension Reichenhall Nurnberg Bremen Bad Black Forest lodging Neuschwanstein Wurttemberg guide Baden family Mosel available appartement lastminute Westphalia Munchen Austria rooms villa Rhine River Rothenburg Allgau Hesse Berchtesgaden Koblenz Bacharach Rhein Rudesheim guides Schleswig-Holstein Rhineland Lorelei Christmas travel Ferienwohnung
---
Long route Rhine river cruises from Swiss through Germany to Netherlands :

8 day Rhine river cruise Amsterdam - Basel or Basel - Amsterdam
8 days Amsterdam – Nimwegen – Koln Cologne – Winningen on the Mosel river – Koblenz Coblence – Rudesheim – Mannheim – Strassbourg – Basel
or
8 days Basel – Strassbourg – Mannheim – Rudesheim – Koln Cologne – Dusseldorf – Nimwegen – Rotterdam – Amsterdam

5 day Rhine river cruise Basel - Amsterdam or 6 day Rhine river cruise Amsterdam - Basel
5 days Basel – Strassbourg – Rudesheim – Koln Cologne – Dusseldorf – Amsterdam
or
6 days Amsterdam – Dusseldorf – Koln Cologne – Boppard – Speyer – Strassbourg – Basel

5 day Rhine river cruise Dusseldorf - Basel or 4 day Rhine river cruise Basel - Dόsseldorf
5 days Dusseldorf – Koln Cologne – Koblenz Coblence – Speyer – Strassbourg – Basel
or
4 days Basel – Strassbourg – Boppard – Koln Cologne – Dusseldorf

4 day Rhine river cruise Strassbourg - Koln Cologne or 5 day Rhine river cruise Koln Cologne - Strassbourg
4 days Strassbourg – Mainz – Rudesheim – Boppard – Winningen on the Mosel river – Koblenz Coblence – Konigswinter – Koln Cologne
or
5 days Koln Cologne – Bonn – Winningen on the Mosel river – Braubach – Rudesheim – Mainz – Speyer – Strassbourg
.